Battlefield Singleplayer NEWS
Recent Battlefield News
(May 16 - Jul 29)
MCR's Spetsnaz Super Texture Pack Release
DATE: Jul 29, 2016
-
After many hours of pouring over reference photos, selecting camos, and designing new gloves... My Spetsnaz texture pack is ready for release! Featuring work by BFSP community member Bubbles, texture artist Tounushi, and myself with contributions from around the net!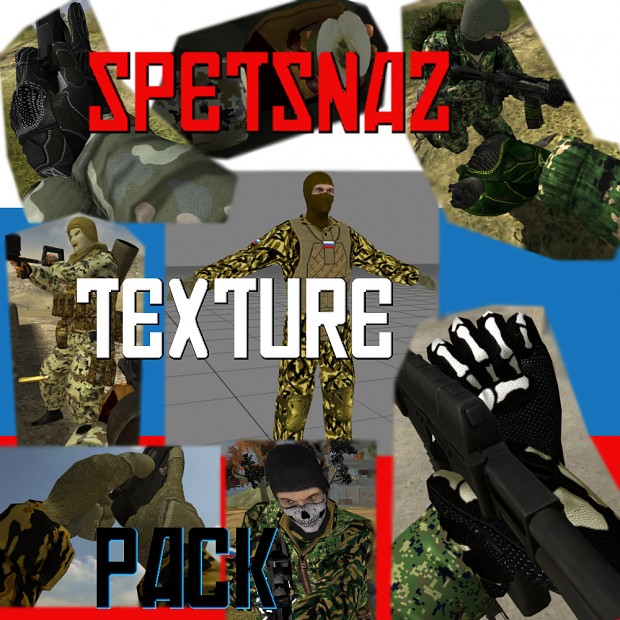 You can find previews and download links in my content thread in the BF DOWNLOADS/Community Add-ons Section of our forums!


---
Enemy Sniper Spotted
DATE: Jul 10, 2016
-
And he's been spotted re-animating the AIX 2.0 mod's Mk14EBR. Looking pretty good, hopefully he'll find it in his heart to release this to the public. Video from his Youtube channel below.
For those who don't know he has multiple animations he's done over the years, many of which can be downloaded in his
release thread
in the
BF DOWNLOADS/Community Add-ons
section of our forums.
---
Happy July 4th
DATE: Jul 4, 2016
-
Happy Independence Day
On behalf of BFSP wishing everyone in the US a safe and happy holiday.
For those interested I've created a 'Digital Patriot' texture for an M16 to celebrate the occasion, and links can be found in my content thread in the Downloads section of our forums. :)
---
Wei Wang's BF2 Super Mod
DATE: Jun 23, 2016
-
BF2 modder Wei Wang has posted a fantastic mega mod of his own creation, featuring excellent exports and craftsmanship of various works of the FPS modding community. One highlight is bringing various CounterStrike community custom weapons and animations to Battlefield 2 through his mod.
Not to be missed, check out the preview video below. Download link can be found in the description of the Preview Youtube video he posted.
---
---
Eve Of Destruction - Redux
DATE: Jun 13, 2016
- Lotte has finally done it. He has released the final version of his Photon-based game, Eve of Destruction Redux. It is NOT free but you can try out his demo. Click
here
for more information.
---
BF Modding Community Spotlight
DATE: May 16, 2016
-
Focusing on members of the Battlefield modding community the purpose of "Modding Spotlight" is to highlight contributions made by those community heroes.
Void's ESAI Add-on
Back in 2010 BFSP member Void created his Enhanced Strategic AI system (or ESAI for short) with the purpose of engineering a better bot commander.
Void stated... So what exactly is ESAI? It is an alternative approach to BF2 & BF2142 Strategic AI scripting. It gives the AI commander many more strategy options. ESAI is designed to enhance each team's cohesiveness and overall effectiveness.
End result was a much better experience in AI combat for both friendlies and enemy AI combatants. Void's ESAI allowed users to customize how AI commanders would react to different situations, thus indirectly allowing users to affect AI troops movements more closely. Users could even craft their own strategies based on any given map, and assistance from user wilson212 made a user-friendly Gui interface possible.
affecting so many different levels of the AI, ESAI add-on made AI less predictable and thus more fun to play with. If you haven't tried it yet, be sure to take a look in the ESAI Thread in our forums.
Note Void also created Map Patch Kits for specific maps he edited for his personal enjoyment, and thought to share with the community. Check out his bug fixed and improved maps here in our ***BF DOWNLOADS*** forum section.